Hi everyone!
This week's Disney Date didn't go down as planned. Things still turned out pretty awesome for us, but this week's movie is going to be a 2 part blog post because the original date we planned still hasn't happened yet. We have to wait on it a bit :) However, we still had a fun and super cool date night, so you still get to hear about our adventures!
Without further ado, welcome to this week's Disney Date: Monsters Inc!
A thumbs up is in order.
Monsters Inc. was a genius movie, for me. I didn't find it quite as funny the second time around- Alas, the pressure I place on Pixar to be perfect! And I suppose I am quite a bit older (ugh, time flies) but I was re-impressed with the ingenuity of a world built around the idea of the monster in the closet. And why the monster would be in the closet, and why the parents never catch them, and as a side bonus, the truth behind the Loch Ness Monster, the Yeti, Bigfoot and the Abominable Snowman. As it seems I always am (there's that pressure!) I was so impressed with Pixar's creativity and execution. Plus, I got a huge kick out of watching Max giggle at it, since he'd never seen it before (and he thinks
I'm
the one who grew up in a cave!).
The adorable solution to the monster's energy crisis turns out to be the power of laughter. So, with that in mind, Max and I decided an ideal date would be a trip to a comedy club. Something we're a bit nervous about (there's nothing more painful than not-quite-funny) but also excited for, because we've never gone to a comedy club together, or as a date at all! (I've been to one- the Second City in Chicago. Kind of a tough act to follow...!)
So, we picked a day and headed downtown at the appropriate time, arriving with enough time to pick good seats. But suddenly, a rather large hitch in our plan: the comedy club is also a bar, which I hadn't realised, and therfore I'd also neglected to bring my ID (we walked, and all I had was my camera). I suppose my born in the barn roots were showing a bit, there. But though we had plenty of time to pick seats, we definitely did not have time to make it all the way home and back downtown. So, huge kink in plan A, which was kind of sad because we watched Monsters Inc on Monday or something crazy and waited all the way till the weekend to go to the show. Boo!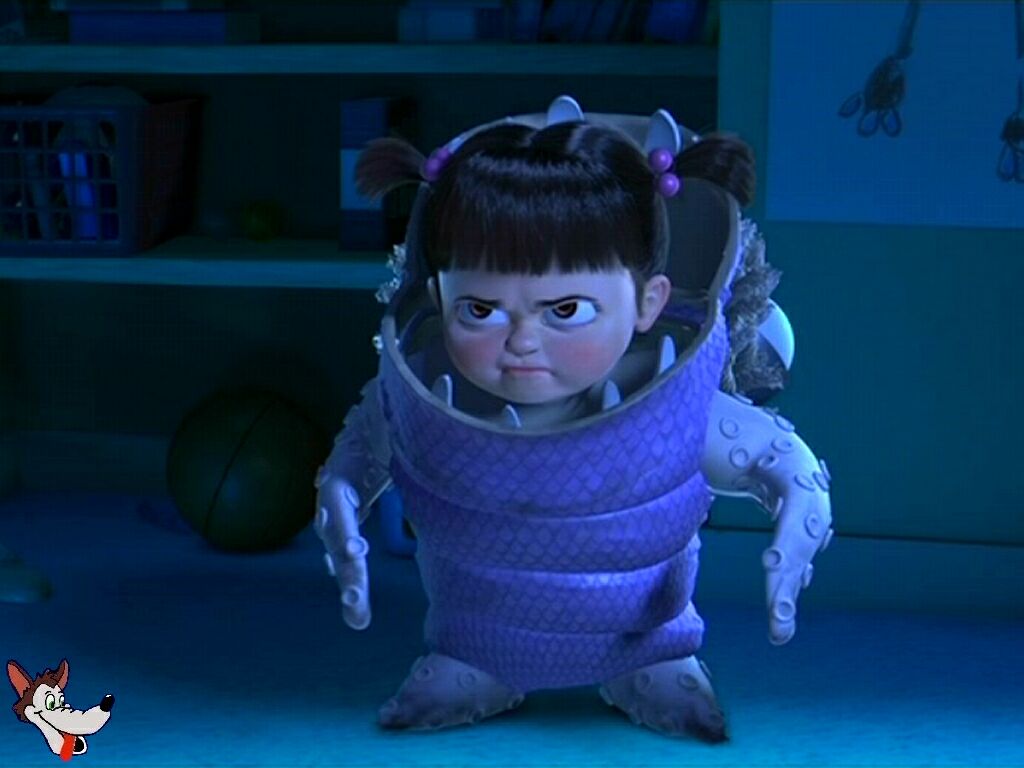 Boo from Monsters Inc making a boo face!
So suddenly we had a free evening. Luckily, it was a summer Saturday night in downtown Halifax, so it's not like its that hard to fill a free night!
Extra luckily for us, this weekend was the
Tall Ships Festival
, meaning there's a plethora of simply stunning sailing ships in town, parked along the Halifax and Dartmouth waterfronts. So we took to the waterfront instead, and spent our evening moseying along the crowded walkways and admiring the ships.
Top: 2 of the ships; Bottom: A mast reflection in a waterfront building's windows and myself at the waterfront
I have to admit, few things have inspired wanderlust in me like these ships did. They were gorgeous, and moveable homes which travel the world. What more could a girl ask for? Alas, my wanderlust is matched stride for stride by a persistent sea sickness. So maybe someday, if I conquer that plague... Max was equally delighted, especially once we discovered the pirate bouncy castle park (I kid you not). And equally inspired with wanderlust, although his main issue was concern about the vegetarian fare on a round the world voyage. I guess the life of a pirate is probably not for us. At least the bouncy castle pirate kingdom was ours for the taking!
The evening was perfectly finished off with a fireworks show, followed by all the ships honking and blowing their whistles, a sound which echoed all around Halifax and faded into the dusk perfectly. The slight chill, haunting sound, and smoke on the waterway leftover from the beautiful fireworks show is one of my favourite summer memories so far.
Sushi and Fireworks! Huzzah!
Though it was now around 10 pm, our night was not complete. Our Monsters Inc inspired dinner had yet to be eaten! We'd planned to eat a bit earlier but not much about the night was going as planned (which we figure is actually perfectly suited to a Monsters Inc date!) so we headed homewards. Because on our own little street is one of the very best sushi places in town, the Wasabi house. *wipes away drool*
We chose sushi because sushi is the special date Mike and Celia are enjoying when Sully barges in with the bag of terror that is Boo. (By 'terror', I really mean 'adorable'. But this is the monster world, things are a little backwards!) In any case, a sushi dinner seemed like just the thing. And really, I'd never pass up the opportunity for a good sushi dinner. (It was delicious!)
And so, though the evening was nothing like we planned, it was fantastic. Never the less we plan to re attempt the comedy club this week, braving amateur and student night. At least now we know liquid courage is available, if needed!
Until then!
Sarah & Max